The Magdalena Project across borders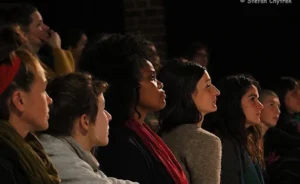 The project aims to support internationally the development of new pedagogical activities and strategies for female artists to be better prepared and trained to ingress in the creative market. This work will be done by sharing clear methodologies for promoting more gender inclusion in the cultural work field. In this context, artistic work emerges as a powerful tool for developing and preventing discrimination against women, especially migrant's women.
The activities are taking place within the context of cultural events, festivals, or meetings. Women have the responsibility of proposing new ways of being in the world, based on diversity of opinion, culture and civic education. Therefore the project is designed to encourage women to position themselves in the face of social conflicts, extremist nationalism, pandemics, discrimination and racism.
Four transnational meetings and training activities will be organised in the frame of the project, as well as research, discussions, and documentation with statements of invited artists from The Magdalena Project Network guided by the intersectional feminist perspective which aims to invest in how aspects of one's social and political identities (gender, race, class, sexuality, ability, etc.) might combine to create specific modes of discrimination.
Women Performing Europe