STORIES TO BE TOLD
18-28 January 2007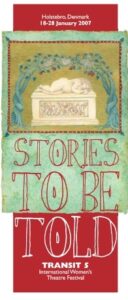 20 years have passed since the start of The Magdalena Project. Although the first Festival was in 1986 and the first idea came even earlier, Jill Greenhalgh etablished The Magdalena Project itself in January 1987. With age comes the desire to tell and listen to stories, like those we hear from our grand-mothers or those we enjoy concoctin about the origins of our families, the relationships within our theatre groups or concerning the political situation in the world.
Stories need to be told: to give face and voice to people whose identity would otherwise only be defined by numbers. They need to be told for us to remember; to refelct and inspire; to talk about the tragedies and comedies of everyday life through fiction; to conquer a place for women in history; to emerge from silence, to give colour, irony and perspective to our actions. Dramaturgy and narration, story-telling and poetry in space, sequences of words spoken or sung are all central in the process of creating contact between performers and spectators in our theatres, although stories are told in different ways.
The intimate, personal and vulnerable qualities of story-telling – its closeness and human significance – are characteristics that women in particular can defend, helping theatre to keep on being a live art of communication between individuals, an autonomous space of exchange beyond cultural and language borders. The difficult task is to protect the spontaneity of a mother-tongue – the music of an exclusive experience, the roots of a tradition – while at the same time reaching beyond them. We open our Pandora's Box of stories to turn the dreams of the night in the reality of the day.
At Transit 5 "Stories to be Told", story-telling techniques and different examples of how theatre performances tell stories will be presented, with workshops (story-telling training and workshop stories), lectures, performances, work in progress and demonstrations (professional stories). Many have expressed the wish that the women who started The Magdalena Project should make a performance together: Women with Big Eyes – Work on a Magdalena Story is going to be an experiment in inventing a practical structure within which to work that hopefully can be transported to other events. At Transit 5, the Magdalena Project's 20th anniversary will also be marked by the presentation of Chris Fry's book The Way of Magdalena and by short stories on the theme: "Origins and aspirations: secrets, water, tears, stones and laughter". These stories, like others, will allow us to meet in a place half-way between history and fiction, reality and imagination, truth and falsehood, presenting events we wished had not happened and ones we wished had, inventing a future of dreams, passion, relations, ideals and tangible actions.
Julia Varley
Here you find information about invited artists and performances (PDF). Click>>